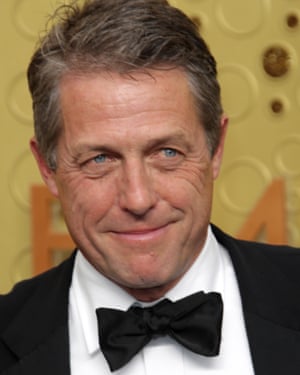 Hugh Grant
14th December
______________________________________________________________
FOLLOWING THURSDAY'S mammoth routing of the UK's Corbynistas, it's only fair that I send post-cards expressing my deepest schadenfreude to some of their super-luvvie sympathisers. Hugh Grant comes immediately to mind, as one of the most deserving. As do (on the home front) many of our own inner-city elites, particularly that great banana in a red bandana, also disappointed that Corbyn's cabal of Islamist-loving, closet-Stalinist pinkoes got well and truly shafted.
But I digress.
Grant's silly attempt to boost his acting career by being accidentally-on-purpose caught being blown by a hooker in an LA car-park is well known. And the pathetic failure of his publicity-seeking attempts to shag Liz Hurley (only to have Shane Warne step in and show him how to do it) didn't do much for his career, either.
Throwing in his lot with Remainers and other crypto-commies was the latest attempt to shine. So Thursday's election result, which saw all three of the candidates Grant campaigned for defeated, must have been utterly devastating for him …
So, let's all have a good laugh, shall we?
But when will poor Hugh finally come to his senses? When will he realise that his repeated attempts to convince people, despite all evidence to the contrary, that he not just a silly idiot, are doomed to failure?
And, what about his vacuous tweet after the election that Germany's AfD's message of congratulations to Boris Johnson "is not a good thing"? Did that not also confirm just how out-of-touch with the electorate and just how dangerously misguided Grant really is?
I think it does.
Give up, Hugh.